If you have found your way to this page you may well be thinking of taking a trip on Ireland's newest and longest scenic driving route,  the very aptly name 'Wild Atlantic Way'.
Stretching from here in Donegal in the north to Cork in the south The Wild Atlantic Way meanders through the rugged and unspoiled beauty of Ireland's legendary western coastal regions. Being the longest defined coastal driving route in the world you may want to immerse yourself slowly in its grandeur by dipping your toe in just one area at a time. Being in Donegal, we of course would love you to explore our portion of this momentous experience in all its majestic wildness.
In many parts of the world you can encounter places which have the 'Wow Factor' but what about experiencing the 'WAW Factor' ? The Wild Atlantic Way Factor. The WAW Factor that is standing high above the roaring Atlantic Ocean as its cascading waters sweep ashore after their 3,000 mile voyage from the shores of the United States and Canada. The tastes, sights, smells and sounds of fresh clean air, lush green fields meeting the greys of rock and the multi-coloured heathers… now that is the WAW factor.
Every single person who follows the Wild Atlantic Way signage from March 2014 onward will encounter their own unique WAW Factor moments. With so much to experience along its 2,500 miles of uncongested country roads and byways no two experiences will be the same. What's will yours be?
Not only are the land and seascapes as beautiful as they are unique but so are the people you will encounter on your journey of discovery on the Wild Atlantic Way. These are people with the WAW Factor and not the X Factor. ( Though many probably have that as well.) From the weavers of the famous Donegal Tweed to the traditional musicians,  from the King of Tory Island to the flat capped local who points you in the right direction, all have one thing in common.. an honestly, friendliness and pleasant smile which bestows on you a feeling that you belong in Donegal and on the Wild Atlantic Way. As we say up here, "Where else would you get it ?"
Along the Wild Atlantic Way special 'Discovery Points' have been designated. These Discovery Points will allow you to fully appreciate the powerful yet strangely serene beauty of the Atlantic waves as they sweep home to Ireland's west coast after their long voyage  across the world's second largest ocean.
There are three of these Discovery Points here in Donegal at Malin Head, Fanad Head and the Sliabh Liag Cliffs. 
Malin Head, Ireland's most northerly point, with the sea swelling on three sides and cliffs and rock formations carved over the millennia offers the visit that true sense of isolation while not too far for the world of today. Situated on the Inishowen Peninsula, Malin Head is crown on its tip by Banba's Crown, named after a mythical queen. Rich in wildlife and seabirds from far off lands this is the perfect place to get your first taste of your WAW experience.
Fanad Head is the second of Donegal's Discovery Points on the Wild Atlantic Way. Here man's presence and his ability to exist in even the wildest of locations is seen in the form of Fanad Head Lighthouse. Now automated, the 39 meter lighthouse, first shone its light on St. Patrick's Day 1817 and has been the subject of many stunning photograph's and paintings over the years. Stop a while and imagine what life was like in hurricane force winds on cold November nights nearly two centuries ago. As you gaze on the unforgiving waters of the Northern Atlantic you can capture a view of Tory Island 14.5km (9 Miles) out to sea.
Travel to this unofficial Island Kingdom by ferry from the picturesque harbours of Bunbeg or Magheroarty. The King of Tory will greet each ferry on arrival. Steeped in music, tradition and Celtic folklore, Tory Island is awaiting your footsteps on its ancient rocks.
Sliabh Liag Cliffs (pronounced Slieve League are truly an awe inspiring sight to behold. Relatively undeveloped they maintain the wildness, ruggedness and isolation that other Irish high cliffs sites have somewhat lost. Rising majestically from the Atlantic they reach a height of 1,972ft (601m) (that's over 500ft higher than The Empire State Building in New York). From this Wild Atlantic Way Discovery Point you must simply marvel at nature and its ability to create structures which dwarf the works of man. Should you wish to walk the 'One Man's Path', at the cliffs summit, do so with care and a good head for heights. Following the Wild Atlantic Way signs will lead you to Sliabh Liag but should you lose your way just ask anyone for directions to 'The Cliffs'. They'll know where you mean and soon you will too.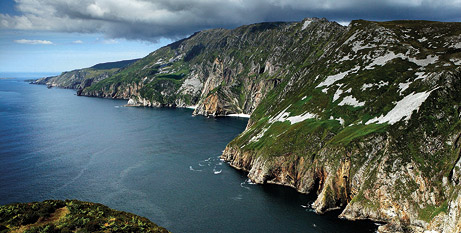 Small tearooms with local produce and craft shops can be found in the townlands and villages around Sliabh Liag and should you wish to venture by sea to view there grandeur there are regular boat trips, weather permitting, from the small harbour at Teelin.
Before heading south to continue your WAW experience make time to stop off in the historic Donegal Town with its central 'diamond' and many shops and eateries. Located at the mouth of the River Eske and tucked in the calm inner reaches of Donegal Bay witness the unhurried and relaxed atmosphere of this small provincial town.
Of course, this is the base for the Donegal Bay Waterbus, a purpose built, comfortable and fully equipped vessel which offers a 75minute cruise around the seven Green Islands of inner Donegal Bay. Fully accessible to all ages, relax in the air-conditioned lounge or sit on the open topped upper deck. Listen to the commentary on history, geography, folklore and wildlife on the outward leg and enjoy live music by our resident musicians on the return journey. Get up close to the 200 strong seal colony in a shallow bay only accessible by boat. You'll be so glad you did. Suitable for the independent traveller or larger groups of up to 160 persons.
There are many, many wondrous views and experiences to be had on the Donegal leg of The Wild Atlantic Way and the three Discovery Points incorporated on its path are only but a minute fraction of the glorious sights and life changing moments any traveller along its stone walled byways will see and partake in. Take your time, we're in no rush up here in Donegal and after just a short while you will relax and slow to a pace what we have enjoyed in Ireland's northwest corner for many, many years.
We look forward to welcoming you to your Wild Atlantic Way experience. See you soon.
FOR MORE INFORMATION ON DONEGAL BAY WATERBUS AND THE WILD ATLANTIC WAY